Whether or not you can make it to a yoga class, there are 7 yoga poses all yogis should do every day. We do so many things with and to our bodies each and every day, and we expect them to keep on keepin' on. If you want them to do just that, these 7 yoga poses will help prevent injuries from rough exercise as well as old age.
I urge everyone do these every day even if you do make it to a yoga class for a few reasons:
Your class may not do any of these poses.
Your class may not hold these poses as long as needed.
All practicing yogis need their own personal practices outside of class.
Those who work at a desk, slumped over a keyboard most of the day (I like to call it keyboard-asana) will find incredible benefits to performing these poses each day. Steady yogi practitioners will also benefit greatly by adding in these asanas into their own daily practices, simply for the strengthening and stretching of key muscle groups in our bodies.
Cat/Cow – Chakravakasana
Start on all fours with a straight back. As you inhale, drop the belly, pull back the shoulders, and push the chest forward with the head up and facing forward. As you exhale, drop the head and arch the back. Do this for 5-10 breaths.
Hand and Wrist Stretches
These hand and wrist stretches help prevent Carpal Tunnel Syndrome as well as any arthritis caused by overuse of hands and wrists. Do you do a lot of typing on a keyboard or on your phone? You need these stretches each and every day.
Sit on your knees with hips on heels. Plant your hands on the ground in front of your knees, and turn your hands so that the fingertips are facing your knees and your forearms are turned outward to the front. To go deeper into the stretch, walk your hands out a little further. Hold for two minutes and don't forget to breathe.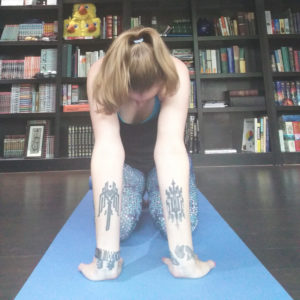 Flip the hands over, placing the backs of your hands flat on the ground in front of you. Your fingertips should still be pointing toward your knees. If you can't get your thumb flat on the ground, move your hands closer to your knees. Straighten your arms as best as you can. If they bend and bow out too far, bring in your hands closer to your knees.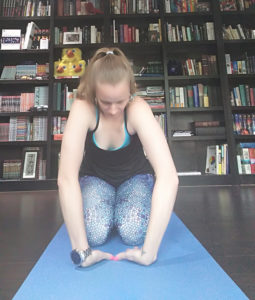 Tree Pose – Vrkasana
Most people recognize Tree pose without even taking a second of yoga. It's an iconic yoga pose to be sure, but it's also one of the most beneficial. It lengthens the spine and strengthens the feet and ankles. The stronger your feet and ankles, the better your balance. The better your balance, the lower the risk of falling and breaking a hip when getting older.
Stand perfectly straight, and start to lift one foot off the ground. Ground down the other foot through all four corners and spread the toes. Lift your foot and plant the sole against the standing leg. Do not lock out the standing leg, but still keep it strong. Do not use your hands to grab your foot and place it against your upper inner thigh. However high you can place your foot is where you are with your flexibility, and it will improve over time. However, do not plant your foot against your knee. It should be either above or below the knee. Press your foot against your leg, and your leg against your foot.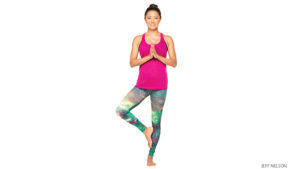 Hold for at least 10 -15 breaths with a goal of 2-3 minutes. Switch sides and repeat.
Feet Stretches
The feet are one of the most important extremities of the body. They hold us up while standing and moving. They contain the most bones and muscles in our bodies than any other region. It's extremely important that we take care of our feet, and it's something we rarely do outside of the occasional massage or pedicure. It's incredibly important to stretch and strengthen the tops and bottoms of our feet.
Sit on your knees once again with the tops of the feet flat on the ground. Sit up straight, and simply sit and hold for 2-3 minutes. Then raise up on the top of your feet and toes for an even more intense stretch of the top of the feet and ankles. Goal is eventually hold this ankle stretch for one minute.
Lean forward to all fours and lightly tap the tops of your feet on the floor to massage them out. Sit back on your knees and heels, but this time, tuck your toes under. Make sure all five toes are touching the floor. Sit up straight and hold for 2-3 minutes. This pose stretches the bottoms of your feet and shins and strengthens the ankles.
Fish Pose – Matsyasana
Fish pose is another shoulder- and chest-opener, and it happens to strengthen the back and shoulders as well. If the legs are in lotus or hero pose, you'll benefit from a hip flexor stretch as well. But since those are a bit more advanced, let's go with simple and work up to that point.
Sit with your legs straight out in front of you, and then lean back, resting on your elbows. Let the shoulders fall back and rest the top of the head on the floor. Fish pose can be even gentler by propping up the back, neck, and head with blocks or blankets.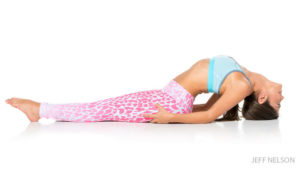 All photos are courtesy of Yoga Journal.